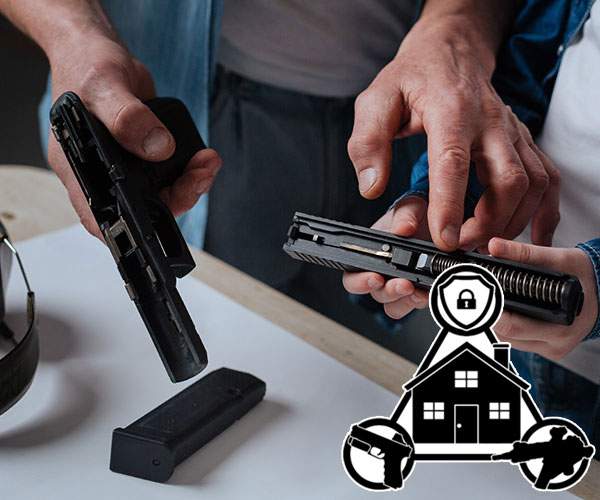 HOME DEFENSE TRAINING PROGRAM
2 DAY COURSE
Allegiance Defense Solutions Home Defense Program is a two-day block of instruction that focuses on preventing and resolving a burglary or home-invasion. This curriculum covers a multitude of security features and devices that will aid in both, the prevention and resolution of such events. Also covered, will be a myriad of other critical tasks ranging from identification, communication, movement, use of force, live fire, and emergency casualty care that are based on past and current trends of burglaries and home invasion scenarios.
*Note: When selecting the Home Defense Course, "Pistol" or "Carbine" will be specified based on the parameters and limitations of the specific range used to facilitate said course.
REQUIRED ITEMS:
Appropriate clothing for weather
Blue gun or SIRT pistol (consistent with your make/model & fits your EDC pistol holster)
Carbine (muzzle brakes are strongly discouraged)
Chamber checker/Chamber flag
EDC flashlight
Eye protection (tinted/clear lenses)
Firearm cleaning/maintenance gear
Hearing protection
Hydrating drinks/snacks/food
Knee pads
Magazines (at least 3)
Minimum of 250 rounds of appropriate caliber ammo based on pistol or carbine course
Note-taking material
Pistol (subcompacts are not recommended)
Quality EDC belt
Quality kydex-type holster
Quality sling
Sunblock/Bug spray (and any other "comfort" items)
Training tourniquet (should match your live tourniquet)
Wide-tipped Sharpie style marker
---
Check out our Upcoming Courses to see if this class is available.
WANT TO TAKE A CLASS WITH ALLEGIANCE?
Check out our Upcoming course schedule to see all courses coming up soon. If you're interested in having a class for a private group, send us a request.