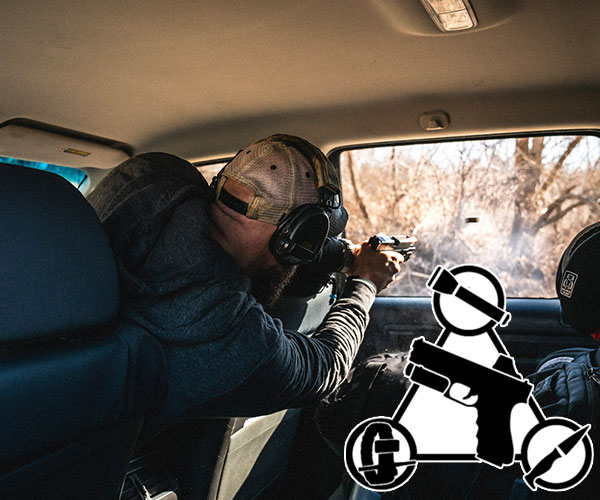 EDC PISTOL TRAINING
2 DAY COURSE
Allegiance Defense Solutions EDC (Every Day Carry) Pistol Course is a two-day course that was developed through lessons-learned over years of covert and low-profile law enforcement training and experience. The curriculum is designed to equip students with the knowledge and skills necessary to carry, conceal, produce, and utilize a pistol from concealment safely/effectively irrespective of your background or profession.
Topics covered will range and progress from use of force considerations to firearms selection, setup, gear selection, carry considerations, pistol manipulations, fundamentals of pistol marksmanship, multiple round engagements, multiple target engagements, positional shooting, movement, proxemics considerations, as well as emergency medical management.
*Note: Allegiance Defense Solutions Low-Light EDC Pistol Course incorporates much of the principles and practices taught and drilled in the EDC Pistol Course curriculum, yet with a primary emphasis of focus on doing so in diminished lighting conditions. Due to variations in time regarding the sunsetting across the nation in different seasons, most Low-Light EDC Pistol Courses are taught as an "add-on" feature to the regular EDC Pistol Course and are taught in conjunction with / shortly after day-one of EDC Pistol. If you elect to add-on this course offering, ensure to bring an additional 200 rounds appropriate caliber ammo.
REQUIRED ITEMS:
Appropriate clothing for weather (consistent with what you wear day to day that can conceal your pistol)
Concealable pistol magazines (at least 3 magazines)
EDC flashlight
Eye protection (tinted/clear lenses)
Firearm cleaning/maintenance gear
Headlamp with white and red light (for low-light add on)
Hearing protection (preferably electronic)
Hydrating drinks/food/snacks
Knee pads
Minimum of 800-rounds of appropriate caliber pistol ammo (We generally shoot 400-800 rounds per day. Students are allowed the freedom to shoot more or less based on their personal ammo allotment.)
Note-taking material
Quality concealable semi-auto pistol (Subcompacts are not recommended, but are allowed)
Quality concealed kydex-type holster that can be securely mounted outside/inside the waistband.
Quality EDC belt
Quality optic/aiming device (iron sights are completely acceptable)
Sunblock/bug spray (any other "comfort" items)
Wide-tipped Sharpie-style marker
Recommended although not required
Blue gun or SIRT Pistol (consistent w/ your make/model and fits your EDC pistol holster)
Individual first aid kit (TCCC/TECC)
Stowable/packable chair
Training blade & sheath that matches your live blade
Training tourniquet that matches your live tourniquet
---
Check out our Upcoming Courses to see if this class is available.
WANT TO TAKE A CLASS WITH ALLEGIANCE?
Check out our Upcoming course schedule to see all courses coming up soon. If you're interested in having a class for a private group, send us a request.