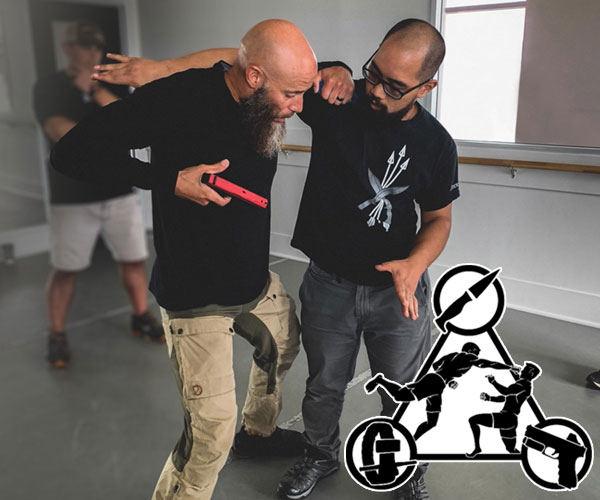 INTEGRATED COMBATIVES
2 DAY COURSE
Allegiance Defense Solutions Integrated Combatives course is a two-day reality-based mixed modal combatives course. This course is intended to introduce students to self-defense principles and techniques that extend beyond the scope of what is discussed in most martial arts or combat sport schools and or programs. Topics covered will range and progress from use of force considerations to the dynamics of violence, understanding proxemics, contextually appropriate striking, trapping, and grappling, understanding the principles of dealing with multiple attackers, weapon-ology and much more.
This course DOES NOT require students to "spar", "grapple", "wrestle" or "roll". Students have the freedom to use their discretion and participate as much or as little as they feel is best for them. If there are blocks of training that a student wishes to only watch/listen, that is completely understandable and absolutely acceptable. This course serves as a baseline curriculum intended to lay a foundation that will support future modules of training which will progressively include pressure testing in the form of a controlled opposing-force. The curriculum taught in this program will allow you to add to or subtract from your preexisting self-defense strategies and system.
PROVIDED FOR EACH STUDENT IS THE FOLLOWING:
A Glock 19 Blue Gun
Blackpoint Tactical Holster for Glock 19
AmTac or Headhunter Training blade & sheath
Tourniquet
1 x Muay Thai pad
REQUIRED ITEMS FOR PARTICIPATION IN LIVE FIRE PORTION:
Minimum of 150 rounds of appropriate caliber pistol ammo
Concealable pistol (subcompacts are not recommended but do not prevent participation…)
Concealable magazine (at least 3 magazines)
Quality concealed kydex-type holster that can be securely mounted outside/inside the waistband.
Quality EDC belt
Eye protection (Tinted/Clear Lenses)
Hearing protection
Appropriate clothing for weather (try to keep it consistent with what you wear day to day that can conceal your tools)
RECOMMENDED (however NOT required):
EDC flashlight
Blue gun or SIRT pistol (Consistent w/ your make/model and fits your pistol holster)
EDC training blade & sheath (Consistent w/ your make/model that fits your live blade)
Training tourniquet that matches your live tourniquet
1 x Muay Thai pad
Note taking material
Wide-tipped Sharpie style marker
Hydrating drinks / snacks / food
Firearm cleaning / maintenance gear
Sunblock / bug spray (any other "comfort" items)
---
Check out our Upcoming Courses to see if this class is available.
WANT TO TAKE A CLASS WITH ALLEGIANCE?
Check out our Upcoming course schedule to see all courses coming up soon. If you're interested in having a class for a private group, send us a request.